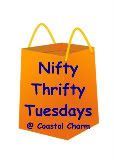 This may be one of the most favorite things I've sewn for myself and it all came about by accidental thriftiness. (Click on the link above left to visit some other great thrifty projects!) I have a habit of buying just a bit of fabric I think is wonderful. It's sort of like having just a "bite of chocolate". It's supposed to leave me satsisfied, but often it leaves me frustrated because it isn't always enough fabric to do what I envision...like make a curtain, a bedspread, or a dress. Such was the case with  this great Michael Miller fabric. Isn't it cute?
I just loved its cheerful print and the retro 50's mix of red, yellow, and green.  This fabric been sitting in my stash for some time and it screamed it needed to be a dress. Sigh. Not enough of it. But...tra, la, la... hiding in my stash was this Goodwill skirt, which I took apart. I'm a sucker for gingham and consider it a neutral. (Second Time Around is a neat blog who showcases other bloggers who enjoy repurposing used items.)  
I took off the skirt's original buttons and added some vintage ones that reminded me of old jadeite dishes and coordinated with my little bit of fun fabric. I also had to save some of the skirt's fabric to add to the sleeves of the top of the dress to squeeze out enough to make the whole thing work. Quite the frugal project, so I'm going to participate in Frugal Friday over at The Shabby Nest.
...and it all worked out to be this this little number!
My eleven year old curled her nose up at the whole creation and wondered what the "crooked stuff" at the bottom of the dress was, and noted she would have never added THAT! Oh, well...it is actually just quirky enough for me that my enthusiasm shall not be dimmed by the modern tastes of my perfectly normal daughter. Oh, and since the dress was cheap to make, I spent $11.99 at Compass for the matching necklace and earrings and I am one happy retro girl!  
Happy REDnesday to you, and please go visit Sue at It's A Very Cherry World  to enjoy some other blogs with a touch of red. It's a fun color! If you are needing some creative inspiration in your life, I can always find some on over at the aptly named awesome blog The Girl Creative!