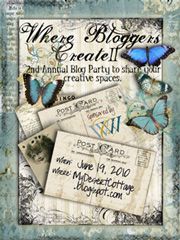 What a surprise when organized, disciplined Bob with a Marine's spirit walked into this widow woman's unorganized, creative, spontaneous life. Bob was an empty nester with a quiet apartment neatly serving up abstract art in black lacquered frames on its pristine white walls. I still had two children at home (out of five) to raise and sported handpainted red, pink, and yellow cherries on my turquoise walls. (That was just the kitchen.) Bob worked out of neat folders and files in an office away from home, and I worked all over my house out of bins and tins, baskets and boxes that were in constant states of volcanic eruptions of paint, fabric, paper, and "vintage stuff." Bob just didn't understand the "vintage stuff".
Bob worked really hard getting the Craft Cottage's plain interior up to my cuteness criteria. Many hours of love went into putting in electrical, insulation...and other details that did not pertain to the cuteness factor. It was really what I call yucky on the inside at first.
But, the plan started coming together.  
Once Bob completed the inside job, he left me to turn my creative space into my dream Craft Cottage. What a guy!
What do I create and enjoy doing?
The fun began when I started moving in! Here is a part of my sewing area.
I began sorting through fabric and moving in my new space...this is a teeny tiny portion of my stash. There is more. Lots more.
That became a work area in my Craft Cottage. Drawers are full of cards and all sorts of paper crafting supplies.
Here is one of my favorite spots in my Craft Cottage. I could just stand and look at all the goodness.
My little inspiration board:
My dress form with my handkerchiefs displayed:
My old phone that serves no purpose except to make me happy:
Yummy paints, pom-poms and whimsy...
No sew curtains added to the wall with gigantic clothes pins:
My Craft Cottage is still a work in progress (as is our blended family.) So many things  to look forward to accomplishing together. I'm so grateful for my creative space to do my thing. Knowing it was born out of my husband's love makes it very special. Yes, AND and his insatiable need for order and sanity in his life. Who knew sanity could be so cute?