how about enjoying a plus-size lemonade? 
sigh.
I am linking up today to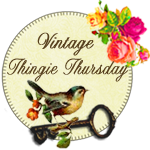 for my tongue-in-cheek post I have entitled:
I Love Vintage Clothes-and if I Were a Size 8 I Would So Wear This
But would I wear a poofy petticoat under my I-Have-Slaved-Over-a-Hot-Stove-All-Day-For-You-Dress? Maybe I would enjoy this sweet little apron below with a floral ruffled detail and matching pockets as I cheerfully scrub my sink with Bon Ami... while flirting with helpful hubby... who is doing all the heavy lifting and admiring the flowery details of my pink apron. That is what he is admiring, isn't he?   
But, alas, I just seem to get chubbier and chubbier. Until I get my brain wrapped around the work it will take to rediscover my waist line, I will  have to wear the vintage ensembles I can find that fit...or, heaven forbid, I will have to wear regular clothes from this decade.
 
So, for now it's vintage 60's double knit (s-t-r-e-t-c-h) with the ascot tie and large brooch. Kind of mod-fun, but not my favorite style.  I really need to give up the Peppermint Patty kick I've been on and befriend asparagus again. Then I could wear this rose glamalicious dress to a garden party...if I were to ever get invited to one.
 
Photo from Fast Eddies Retro Rags
In the meantime, I'll put on a smile, count my blessings....and sincerely try to lay off the Cheetos.